Alderney eyes up executive-style government

Deputy Editor – John Donnelly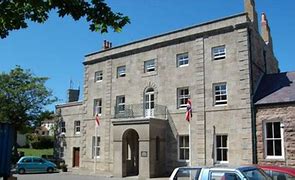 A four-week public consultation process begins this week in advance of a September debate in the States of Alderney in respect of a possible future executive form of government.  If there is support for the proposals as put forward by the Island's Good Governance Group, there would be a reduction in members of the States from the current ten to eight, and the division of portfolios which currently comprise Policy & Finance, General Services and Building & Development Control would take place.  Three members would be chosen to form an 'Executive Council' with a chairman who would coordinate with the civil service and prepare Billets for States debates.  As at present, two members would be chosen to represent Alderney in Guernsey's States of Deliberation.
Criticism came from Alex Snowdon, who is currently one of the Alderney States members representing the Island in Guernsey, that the new system would dilute or eliminate the community mandate.  He said:
"I fear a backwards step for democracy removing the public vote".
Before raising the spectre of "power grabs for executive government".  Kevin Gentle of the Good Governance Group said:
"We have been listening to these calls for change while examining how other jurisdictions have adapted to an executive-style approach".
The impetus for what may be quite a controversial move in what has historically been a conservative community seems to have been based on frustration at the speed in which the Alderney States has moved regarding the implementation of new legislation.  It does, however, remain to be seen to what extent an executive government, more distanced from the electorate in terms of individual accountability, would be able to deliver on the will of the electorate.  Whilst it may be of some reassurance that people's meetings and the open forum will continue and with debates at States meetings open to public, scrutiny of the real possibility of a less transparent decision-making process may be front and foremost in the minds of the Alderney public if the changes are indeed carried through.
In Guernsey Deputy Heidi Soulsby has continued to thrash out the pros and cons of the executive system of government in a Guernsey Press feature under the headline 'Be careful what you wish for': OPINION 'Be careful what you wish for' | Guernsey Press.  In her summary, she points out the fact that Guernsey States is already an executive, although this comprises the Island's parliament and the difference, she points to in respect of for example Westminster, lies with power:
"… vested in a smaller number of ministers, rather than dispersed across the elected body". 
Deputy Soulsby goes on to give her informed opinion on the comparison between the Guernsey and Jersey systems outlining how the long, drawn-out Jersey hospital saga, which commenced in 2012, has only just had their Minister of Environment approve the planning application.  She goes on to point to flawed British Virgin Islands governance after a Commission of Inquiry pointed out that:
'… one of the root causes of the difficulties I have identified is the fact that many government decisions are made, not openly and transparently on the basis of objective criteria, but using an open-ended power involving unfettered and unmonitored discretion.  I have recommended that there should be a review of such powers, with a view to curtailment and replacing them with decisions made in accordance with good governance'.

In concluding her piece, Deputy Soulsby outlines her opinion that in the case of Guernsey: '…the jury's out …' on political parties and that the committee tasked with reviewing the machinery of government must '… grapple with these questions…'.  The highlighted section:
'Criticisms of the Guernsey system are that it is slow and cumbersome and there is some truth in that.  Whereas in an executive system a minister can make a decision to do something that falls in his or her department's mandate, in our consensus system decisions are made by committee'.
It follows that, in balance, the Deputy's well-informed argument throws out any magic bullet presenting a once and all clear solution to restructuring Bailiwick governmental systems.  Just as for Alderney the proof will be in the pudding and likely rests on individuals and their judgement calls, but it is no doubt worth bearing in mind that, for all its flaws, a committee system has in the past served the Islands well and delivered a high level of consensus amongst those who have served in the political arena.  With some adjustments, the Bailiwick might be best served to retain the present system whilst allowing for the concept of political party politics to run its course.  Certainly, all eyes will be on Alderney if the Island moves to experiment with an executive-style government with elements of scrutiny suitable to guard against 'power grabs' or poor and opaque decision-making processes.