GOD SAVE THE KING, CHARLES III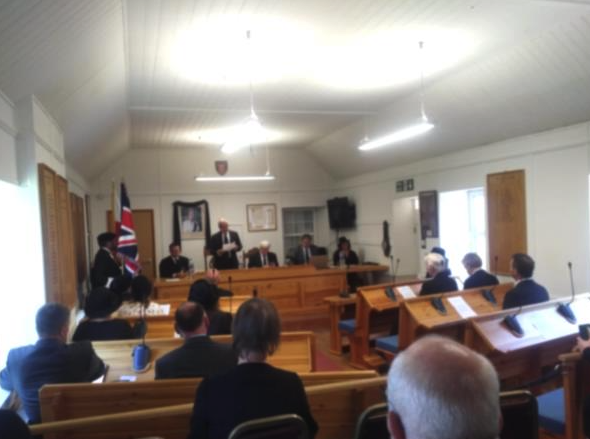 The Chief Pleas of Sark sat at 4pm last Friday to give tribute to Her Majesty Queen Elizabeth II whose passing had been announced the previous evening. The House reconvened on Sunday at 12.30pm to hear the Accession Declaration of His Majesty King Charles III read by the Island's Seigneur, Major Christopher Beaumont. 
Island officials, Conseillers and members of the public gallery then proceeded to St Peters Church following the Union and Sark standards. Sark's Prévôt, Kevin Adams, then read the Proclamation which was followed by 'God Save the King' and three cheers of Hip Hip Hooray by the assembly and additional members of the public who had congregated outside of the Church for this historic occasion. Following the return of the House to the Assembly Rooms, Grace was read to close the proceedings. 
The Seneschal's Court was then convened in order for all Conseillers, and officers of the Island present, to declare their allegiance to the new Monarch. A further date for those unable to be sworn in will be announced in due course, whilst the Extraordinary meeting of Chief Pleas scheduled for Wednesday 14th September 2022 has now been postponed to Wednesday of next week
.