SARK'S SEIGNEUR PAYS TRIBUTE TO HER MAJESTY ELIZABETH II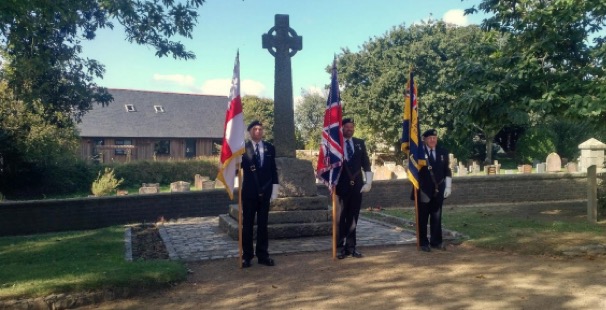 At the special service in commemoration of The Late Queen held last Sunday in St Peter's Church local vicar David Stolton confirmed that many aspects of that service were taken from Her Majesty's own personal requests for her actual funeral. This included hymns and readings whilst tributes were paid by the Seigneur of Sark, Major Christopher Beaumont and the some of the Schoolchildren of Sark. The service concluded with a blessing and the national anthem. The Seigneur's tribute:

"Evening will come, however determined the late afternoon." So said the Poet Laureate of Her Majesty's death. What an extraordinary late afternoon she had, indeed what an extraordinary day, the like of which we will not see again in our lifetimes. And now the evening has come, we are living in a moment of great history, but it feels at times almost impossible to read all that is written or watch all that is being broadcast. There will come a time when channels change and newspapers lie in the backs of cupboards, but our memories and our emotions will be there for the rest of our lives. Five times Her Majesty came to Sark, she loved her visits, and I know that she never stopped thinking or caring about us. It has been over seventy years since her fist visit and twenty years since her last. And those moments are captured in trees that have been planted, the harbour and surgery being opened and photographs that have been taken. These things are important, but they tell us what she did not necessarily who she was. That comes from the reflections of those that were there, who saw and spoke to her, and hold that memory dear. Jeremy recalled her humour during the 2001 visit when Her Majesty was being introduced to a line of residents, she neared the end of the line where Jeremy was standing next to an elderly and frail resident, as he was about to be introduced his neighbour took a step back, collapsed and disappeared from view. Her Majesty looked at Jeremy and said, "You pushed her over!", he couldn't very well argue. To make matters worse Jeremy heard her saying to my father as they left the line "Her pushed her you know!" If you have a memory of any of Her Majesty's visits, I implore you to write your memories down in the book of condolence, each one will raise a smile of shared experience and recognition when read by His Majesty.
My own particular memory also comes from the 2001 visit. My task was a simple one, just to serve coffee to Her Majesty in our Drawing Room, from which an opportunity for a chat may have ensued. I was completed overshadowed by our 4-and-a-half-year-old son who, after much practice of a sincere nod of the head, decided to upstage everyone by a full blown over the top stage bow with his arm sweeping to the side as if throwing a cape down. He bowed so low his mop of hair brushed the shoes of both Her Majesty and Prince Philip. This distraction clearly amused our guests, and my opportunity was lost in the laughter.
Whether you met Her Majesty or not, we all knew her. And as the years pass it will be those memories that come to mind. For some it will be catching a glimpse on a walk-about, or actually meeting her. For others it will be seeing her eating a sandwich with Paddington or parachuting into the Olympics. We grieve for our loss, but as she said herself. "Grief is the price that we pay for love", and we show that love not just in the pomp and ceremony we do so well, but in taking a moment to think of somebody who was loved and who loved in return. Her Majesty used her time to serve others, a promise was made and kept for life. And we can honour her best in the way in which we live ours. Thank you, Ma'am. May God, grant you rest, and guide and support our King.'